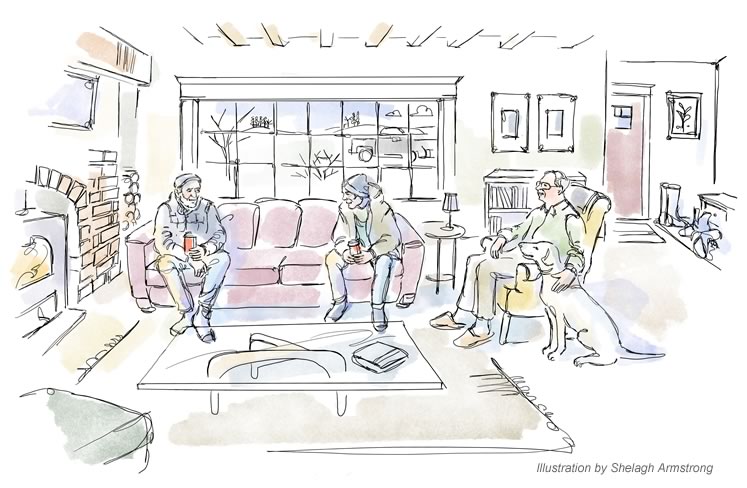 A few weeks ago, two old friends of mine turned up at the farm unannounced for a visit. Without thinking, I invited them into the house and they sat on the couch in the living room – the first visitors I have hosted inside in nearly two years. We sat there looking at each other, considering the enormity of what we had just done. No masks, no social distancing. Eventually we asked each other, "Is this how the pandemic ends? Do we just get tired of being alone and throw the doors open?" The answer appeared to be yes.
It was not like old times. I didn't have anything on hand to serve them, which wasn't a problem because they had brought their own coffee. More importantly, I seemed to have forgotten how a visit is supposed to go. The conversation became oddly formal as we moved through the family news and brought each other up to date, being careful to share equal airtime and avoid all the subjects that have become so explosive after two years of shrill debate on social media.
Isolation has always been one of the drawbacks of country life. When I first moved to this neighbourhood in the 1970s, there were still a few farm couples who disappeared down their lanes when the first snows set in and weren't seen again until the spring melt. There was one pair of bachelor brothers who hauled their little wooden driveshed down their steep lane to the road and parked their car inside it for the occasional run into town. You knew it was finally spring when you saw them dragging the shed back up the hill behind the orange Case tractor to its customary place beside the house.
Living down a dead-end road that the township snowplow often skips during winter storms, we learned early on to maintain a winter survival package that includes a crokinole board, jigsaw puzzles, tole-painting kits, wallpaper supplies and a stack of seed catalogues. And when spring arrived, we knew there would always be the April Problem, that period of adjustment as we learned to be "in company" again. Instead of checking my face for frostbite, my wife would switch to gentle reminders that I was holding a guest by the lapel as they tried politely to make their escape on the veranda.
Historian and philosopher Yuval Noah Harari says humans learned to co-operate with each other in extremely flexible ways by living in village settings for a hundred thousand years or more. This is where human consciousness is thought to have first appeared. Long before there was history, there was conversation. The oldest and largest part of the human brain is the limbic system, which regulates our emotions and helps us read each other's faces with extraordinary accuracy. When we are deprived of the company of other humans for an extended length of time, the effect on our limbic brain can be devastating. iPhones are not much help here. If evolution is any guide, we're not likely to get really good at picking up social cues from a text message for another few thousand years.
Two years of isolation plus the incessant shouting on social media have given us all the April Problem, no matter where we live. It's going to take some practice for us to relearn the social skills our grandmothers taught us. I bumped into a dairy farmer friend in Canadian Tire the other day. He has always been a writer of caustic letters to the editor of the local paper, but he suddenly stopped, and I asked him why. He confessed that he had grown tired of antagonizing people in print and wanted to make some friends.
"You've never been a shrill person in conversation," I assured him. "You just need to get off the farm and out in company again. It shouldn't be difficult."
He liked that idea and we have arranged to take a walk down the main street of the village this Saturday, if the weather is mild, to practice the ancient art of visiting. If that works out well for us, we may take the next step and organize a potluck supper.
Article appeared in Inn the Hills Magazine March 29, 2022. Click to read more articles in Inn the Hills Magazine.