On the Farm with Dan Needles
Photo by Jon Tamlin Edited by Rina Barone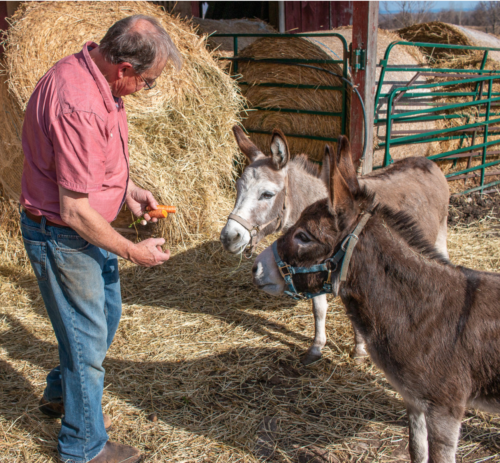 I remember the first time I met Dan Needles. He came into the bookstore and within minutes he had engaged the few of us there with an entertaining story about a secret underground chicken club. It was one of the funniest, and most truly bizarre conversations I've ever heard. These were the early days of us trying to get our bearings at the store, and I remember thinking: "Is this what it's like having a bookstore?" Random, off-the-cuff, totally spontaneous interactions that leave you both inspired and puzzled. Yes! It's totally what it's like.
Over the years I've had the pleasure of getting to know Dan a little bit more, and I look forward to his drop-ins, and can always rely on a good belly laugh or two. But this summer, I visited Dan (socially-distanced) on his farm a few times with my young daughters. He was kind and welcoming to them, taking them on a tour of the animals, and offering carrots to feed his resident donkeys, Daisy and Maggie. For a moment it felt like we had our very own petting zoo, a much needed distraction for all of us.
Dan is a born storyteller, distinguished writer and playwright, and recipient of an Order of Canada. He is also a family man (two of his four adult children are back home these days), husband to Heath for over 30 years, and friend to many. For over four decades he's called a 40-acre farm in Simcoe County home, and these days it's where he spends most of his time, writing and what he likes to say "goofing off in the barn".
Click to read the full article on Curiosity House Books website.