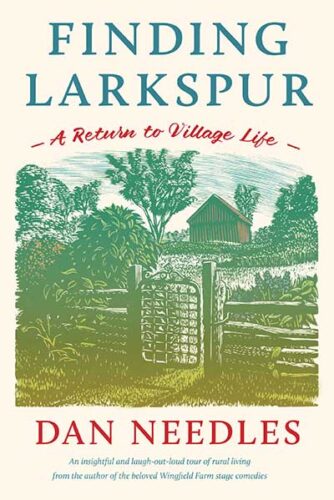 Modern literature has not been kind to village life. For nearly two centuries small towns have been portrayed as insular places that need to be escaped. But suddenly and for the first time on record, growth in Canadian and American small towns is outpacing the growth of large cities, driven in part by the realization that in this digital age, many jobs can be done from anywhere—and that a rural life has much to offer.
Written both for the old-timers who wonder what to make of this sudden influx of city people and the newcomers who seek to understand their strange new surroundings, Finding Larkspur takes a walk through the village of the twenty-first century, observing customs, traditions and institutions that endure. With characteristic wit, Needles reveals that the national character is often very much a product of its small towns and back roads.
Tributes from the Driveshed Coffee Club on the Tenth Line
"If we have a run of bad luck, Danny takes it and turns it into a funny story."
—Alvin Currie, farmer and market gardener
"Danny's the sort of person you want beside you when you're driving down country to a sale."
—Steve McKee, farmer turned maintenance supervisor
"I used to worry about him, but he seems to be doing okay."
—Wes Caughill, diesel mechanic and cash cropper
Not the Best Place to Write a Novel (excerpt)
When I bolted from the insurance company in the city to live here full time in 1988, the idea of a home office was not widely accepted. People had studies in their homes, but in those days employers scoffed at the notion you might do all your work from there. Wouldn't you spend all day in your pyjamas watching television?
My friends worried that my brain would atrophy without the stimulation of "people friction," and I would become unproductive. I assured them that if my brain didn't have to think about the life insurance business ever again it would probably thrive. Besides, I argued, once you took the commuting and all those pointless meetings and business lunches out of your day, you gained a seven-hour time advantage over everyone else.
"Yes," they said. "I suppose you would have lots of time to think and write out there."
Well no, you don't, because other distractions swoop in to replace the old ones. I once tried writing a novel at my mother's farm, even though I already knew that a cabin in the woods in winter was a tricky place to concentrate on anything but survival. In 1974 I dropped out of school two credits short of an economics degree and took the train north to the Rosemont farm, imagining that the silence of the Canadian forest would help me think long uninterrupted thoughts and commit them to paper by the light of a candle while the wind sculpted snowdrifts around the house. Omar Sharif did this very well in Doctor Zhivago. He scribbled feverishly with a pen and inkwell in front of the fireplace late at night while Julie Christie slept and the wolves howled in the moonlit field in front of the dacha. There was a lot of crumpled paper on the floor, and the theme music would falter and you could see this was all very difficult for him. But then Julie Christie would appear at his shoulder in a lace nightgown with a mug of tea and the music would pick up again and you just knew something really great was going to happen.
My log cabin had an open fireplace that pulled every cubic foot of warm air out of the house and sent it straight up the chimney. The drafts came in through the cracks in the logs, making the cobwebs in the corners float up and hang on the air. I chopped wood and stoked the fire until the couch finally thawed out. Then cluster flies emerged from the logs in biblical numbers and buzzed around the lampshades. By the time I had finished swatting flies and chopping more wood, I was very hungry. The cycle of eating, chopping, napping, chopping, swatting, picking flies out of soup and scanning the horizon for human company took up quite a bit of a writer's working day. After two weeks of this I called a friend. We met at the airport and flew to a warm beach in Fort Lauderdale. I tried writing at the hotel bar, but that didn't work either…
Excerpt from Finding Larkspur, Douglas & McIntyre 2023
Purchase your copy here:
Great for Christmas, birthdays, anniversaries!
Dan will sign your book and add a personal inscription to you, your relative or a friend.
Purchase Price:
$22.95 plus $6.00 shipping in Ontario & Quebec = $28.95 plus 5% HST
$22.95 plus $8.00 shipping for Western Provinces and Maritimes = $30.95 plus 5% HST
Select correct price from dropdown below. All shipping information will be entered on the Paypal site along with any special instructions you have for Dan. If you have any questions please contact Dan.