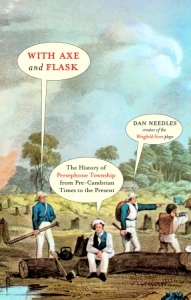 The history of Persephone Township from Pre-Cambrian Times to the Present. Buy Now!
Followers of the Wingfield plays will know that Persephone Township is a peculiar place. This local history helps to explain how it got to be that way. From the township's murky colonial beginnings through to the coming of the weekenders, With Axe & Flask tells the 'warts and all' tale of Persephone's struggle to move from an untamed wilderness to a sleepy backwater.
Canada is a land of limited opportunity … our economic history has been enlivened by a parade of fast-talking moneymen, pirates, second-storey artists and speculators who force the pace of development with the active encouragement of the government, in a way that alarms the more prudent entrepreneurs who have already been through a couple of winters here."
Winner of the 2003 Stephen Leacock Medal for humour.
Purchase your copy here:
Great for Christmas, birthdays, anniversaries!
Dan will sign your book and add a personal inscription to you, your relative or a friend.
Only $24.95 plus $6.00 shipping and 5% HST.   All shipping information will be entered on the Paypal site along with any special instructions you have for Dan. If you have any questions please contact Dan.
Paypal accepts all methods of payment, you don't need to have a Paypal account to purchase.