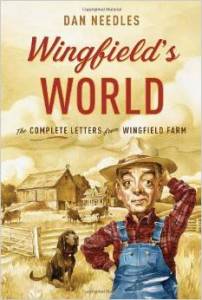 The complete collection of Wingfield stories following stockbroker-turned-farmer Walt Wingfield as he meets the neighbours, tries to plow the fields with two broken down racehorses and struggles through Persephone Township's ferocious winters. Over six seasons on the farm, Walt falls in love, becomes a father and bonds with a very eccentric community. Buy Now!
Penguin Random House Publishing
Purchase your copy here:
Great for Christmas, birthdays, anniversaries!
Dan will sign your book and add a personal inscription to you, your relative or a friend.
Purchase Price:
$24.95 plus $12.00 shipping in Ontario & Quebec = $36.95 plus 5% HST
$24.95 plus $18.00 shipping for Western Provinces and Maritimes = $42.95 plus 5% HST
Select correct price from dropdown below.  All shipping information will be entered on the Paypal site along with any special instructions you have for Dan. If you have any questions please contact Dan.
Paypal accepts all methods of payment, you don't need to have a Paypal account to purchase.