True Confessions from the Ninth Concession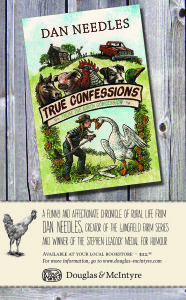 A funny and affectionate chronicle of rural life from Dan Needles, creator of the Wingfield Farm series and winner of the Stephen Leacock Medal for Humour.
In 1988, Dan Needles and his wife left the city to start a family on a forty-acre farm two hours north of Toronto, where they raised sheep, cattle, chickens, pigs and, eventually, four children. In essays dated from 1997 to 2016, he chronicles his life on Larkspur Farm and draws us into the wider human community of the Back Settlement. Needles offers tips on the rural wave, how to interpret weather signs and the correct approach to a one-lane bridge. Here too is the tale of an unlikely friendship between a "borderline" collie and an odd duck named Ferdinand, as well as recollections of a rooster gone bad an escaped pig and the risk of giving a name to a Sunday dinner entrée.
With wit and insight, Needles shares the art of neighbouring in a place where truck boxes are built at just the right height for visiting and the sight of  "a figure walking across your field is more of a reason to put the kettle on that to call the police."
True Confessions from the Ninth Concession provides a wonderful escape for world-weary city dwellers – and affirmative reading for rural denizens – from Canada's funniest farmer.
Now available to purchase on this website! Click to purchase True Confessions from the Ninth Concession.
Published by Douglas & McIntyre
Available at local bookstores. For more information go to http://douglas-mcintyre.com.
With Axe & Flask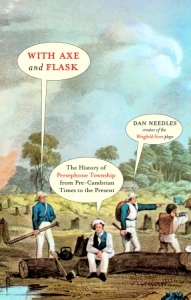 The history of Persephone Township from Pre-Cambrian Times to the Present
Followers of the Wingfield plays will know that Persephone Township is a peculiar place. This local history helps to explain how it got to be that way. From the township's murky colonial beginnings through to the coming of the weekenders, With Axe & Flask tells the 'warts and all' tale of Persephone's struggle to move from an untamed wilderness to a sleepy backwater.
Canada is a land of limited opportunity … our economic history has been enlivened by a parade of fast-talking moneymen, pirates, second-storey artists and speculators who force the pace of development with the active encouragement of the government, in a way that alarms the more prudent entrepreneurs who have already been through a couple of winters here."

Winner of the 2003 Stephen Leacock Medal for humour.
Wingfield's World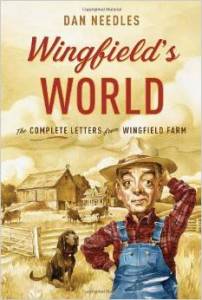 The complete collection of Wingfield stories following stockbroker-turned-farmer Walt Wingfield as he meets the neighbours, tries to plow the fields with two broken down racehorses and struggles through Persephone Township's ferocious winters. Over six seasons on the farm, Walt falls in love, becomes a father and bonds with a very eccentric community.
http://www.randomhouse.com/book/214857/wingfields-world-by-dan-needles