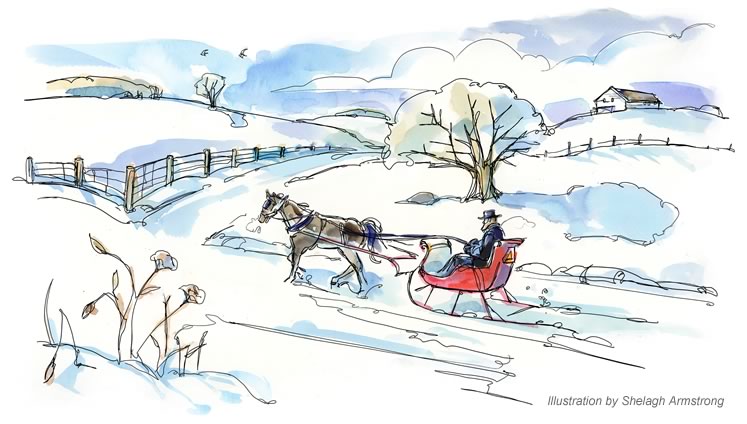 My great-uncle Bob was the first member of our family to leave the rat race and seek the simple life on a hundred-acre hill farm north of the city. In the 1930s, he found a secluded property that perched on the watershed of the Humber, the Grand and the Nottawasaga rivers in Dufferin County. He moved into the tiny fieldstone house and started working the land with a team of horses, filling the barn with loose hay every summer and milking his cow like it was 1850. His much older half-brother, my grandfather, was so taken by this idyllic way of life that he seriously considered giving up his practice as an ophthalmologist and joining Bob on the farm.
As a young man I used to drive over to Bob's farm to fish the trout pond at the top of his property in Mono Township. Bob claimed that if you peed on the south side of that pond it would flow into Lake Ontario, on the west side it would end up in Lake Erie, and on the north side it would go all the way to Georgian Bay. Looking at a topographical map, I can see it doesn't quite work out that way, but I liked how Bob talked about his farm being at the very top of the world.
At some point Bob gave up farming and started teaching history and geography at the Orangeville high school. All his equipment went into the barn and stayed there until the summer of 1992 when my mother found him one morning, lying face down in his flower garden beside his little pioneer house. She was his closest living relative at that point and, since Bob had willed the farm to the Nature Conservancy (it is now known as the Goulding West property), she invited the family to come and take whatever they wanted from the house and barn. In the haymow I found a red sleigh built by the McLaughlin Carriage Company about 1910, and I took it home to my own haymow 30 miles north where it sat forgotten for another 27 years.
My son and I go fishing every spring with an old friend, Will Samis, who farms on the North Channel of Georgian Bay. He takes us way up into the Algoma Highlands to a remote lake and cabin he has owned for 50 years and where speckled trout frolic at the very top of their world. While we are away his hired man, Levi, a young Amish lad, does chores for him. Levi also helps out during haying and maple syrup season, and works in the barnyard training draught horses, including a very elegant black Canadian stallion Will calls "Lawrence of Algoma." Last year Will informed me sadly that his old sleigh had disintegrated under Lawrence's guidance. I decided it was time for Uncle Bob's sleigh to make a comeback.
Will took the sleigh to Levi's blacksmith cousin Eli, who advised that the structure was basically sound, but both runners were quite badly worn and it was now impossible to find the hard carbon steel from which sleigh runners of yesteryear were made. Will remembered seeing what appeared to be the remains of an old sleigh in an abandoned lumber camp just a few hundred yards from his fishing cabin. So he drove north for two hours, paddled over two lakes with some tools, and pried the ancient runners loose from the rubbish pile left by the lumbermen of the 1920s.
Eli announced joyfully that the runners were a perfect fit, from the very same model cranked out by the Oshawa plant between 1900 and 1910. Even better, there was absolutely no wear on them at all. Eli recovered the seat with Sunbrella fabric which wears like a pig's nose. Then he gave the whole thing a fresh coat of red paint. (Somehow Levi has secured permission from his Amish bishop to drive a red sleigh. At least his horse is black.)
And so, if you happen to be passing through Iron Bridge on a snowy evening you may just catch a glimpse of Lawrence of Algoma prancing through the snow with Uncle Bob's bright red one-horse open sleigh gliding behind him. It will not be a perfect "Jingle Bells" scene because, of course, bells are not permitted. But it is still a triumph of reclamation, and the sort of moment that lifts my spirits and restores my soul.
Article appeared in Inn the Hills Magazine November 22, 2019. Click to read more articles in Inn the Hills Magazine.