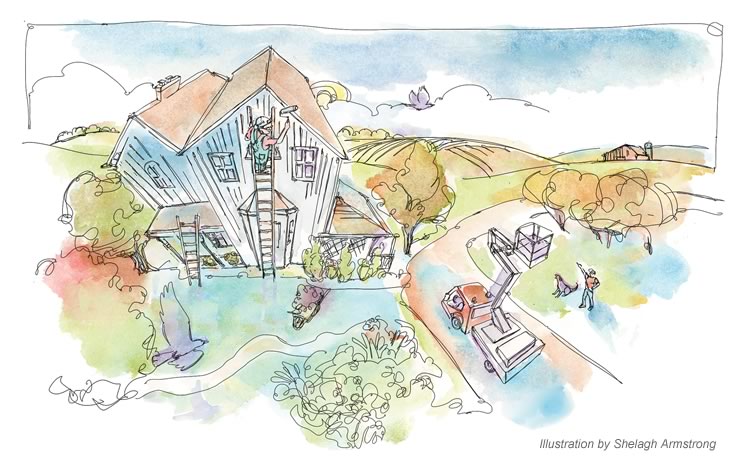 Last year in this space I wrote about painting my barn. That was a totally unnecessary project and a shameless vanity because barns do not require paint. You only have to drive a mile into the countryside before you will find any number of barns that have been standing happily for over a century without a lick of paint.
A farmhouse, however, is a totally different matter, especially an old one made of wood. I put pine boardandbatten siding on this house 40 years ago and the relentless wind that sweeps off the mountain has removed five separate coats of paint over that time.
I enjoy painting because it gives me lots of uninterrupted time to think. People seldom bother you when you are up 20 feet painting an eavestrough, just as they don't come near you when you are beekeeping or forking steamy piles of manure.
I have a poor history with ladders. I have a steel bolt in one foot and an artificial hip, plus a number of cracks and contusions that are the result of mishaps on ladders. My surgeon has advised me several times to have nothing more to do with them.
I explained to him there's something about the top rung of a ladder that lifts you above the everyday, gives you fresh perspective and encourages you to practise mindfulness. It is a kind of farmer yoga. These days you can pay up to a hundred dollars an hour to get the same feeling from the Asian wellness guru in town.
There are so many jobs around the farm that require mindfulness. You are taught before you go to school not to turn your back on a ram or a gander. You learn never to leave the tractor running on a slope, not to raise the loader above your nose when moving on rough ground and never, ever touch the clutch on a hill. So many pieces of machinery around the place are waiting to make a snatch at you that a farmer must always be on high alert and move warily, like a jungle cat. The body ages steadily with each assault, but the mind stays sharp and fresh.
My wife has very little patience with farmer yoga. The dog feels the same way. He has been watching me skeptically from underneath the truck for three weeks now and every time he hears the ladder move he covers his eyes with his paws. With my toes pointing uphill on the veranda roof and my neck twisted around to see if the roller is getting up under the eave, my body sometimes goes into full spasm and seizes up. In the mornings I move like an old rodeo rider and I have to load up on quinine and magnesium to get through the day.
In the middle of the project my son arrived home on leave from the military and imposed restrictions. He's with a regiment whose motto is "Always in Front," which doesn't sit well with his mother. She would like him to be with a regiment with a different motto like "Three Days After Rick Mercer" or "First with Tim's DoubleDouble." Anyway, he jumps out of helicopters and rappels down mountain cliffs and talks like an Elmer the Safety Elephant video on a continuous loop. He immediately hired a cherry picker for the highest points on the east side (which I was not even allowed to run) and banished me to ground level to clean rollers.
The warranty label on the can boasts with Trumpian bluster that "This paint will last on fences and siding for 25 years," an absurd claim that no permanent resident of this township would take seriously. But even if it does last ten years this will probably be the last time I am allowed to paint the house. When the wind finally lifts and peels this coat, it will fall to someone else to climb up and sand and prime the knotholes. I may return a few more times to clean an eavestrough, but there will be no more three-week stretches on languorous summer days with the wind in my hair and a 360-degree view of my domain.
I will have to seek danger elsewhere on foot.
Article appeared in Inn the Hills Magazine September 18, 2018. Click to read more of Dan's stories in Inn the Hills Magazine.