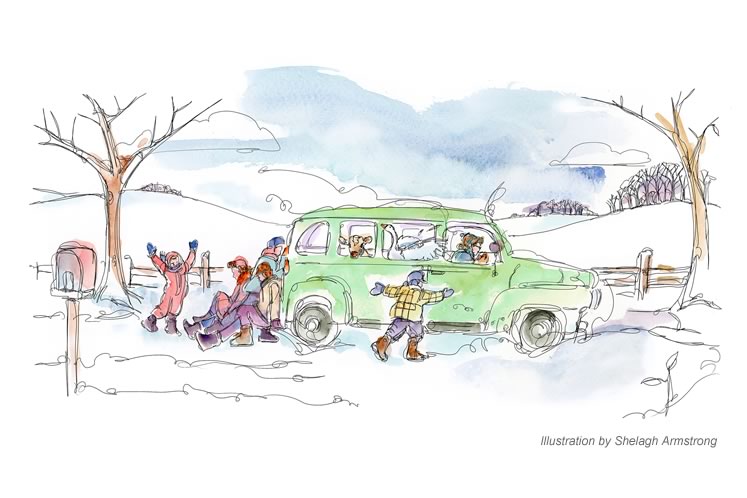 When my mother came to the country in the 1950s, she brought a Ford station wagon that would carry five children and a lot of dogs. The starter had a flat spot and a mechanic made the mistake of telling her to hit it with a hammer whenever it got stuck. She eventually gave up the Ford, but she kept the hammer and for the next 50 years if she ran into problems she would lift the hood and whack anything that looked remotely like a starter.
Her next conveyance was a 1956 International van that had been adapted by the St. John Ambulance to accommodate wheelchairs. She painted it green and used it for driving all the kids on our road to school. No seatbelts, no special licence or insurance. It had zero traction and had to be coaxed through the tiniest puff of snow, but she usually had 10 children to get out and push. When the truck started to get seriously stuck in snow, it went into the barn for the winter and she packed us all back to the city. The neighbours' spirits always lifted in mid-April when they saw Dorothy Jane's green truck appear because it was a definite sign of spring.
We all learned to drive on that truck. It had four gears on the column and you had to hold it in gear going downhill. This was a trick if you had a Jersey calf between the seats or there was a big goose in the back seat, as there was the day my brother went to take his driving test. The examiner got in and the goose leaned over and grabbed him by the ear. The poor man jumped out of the truck and told my brother to come back another day, without the goose.
I learned auto mechanics on that truck. I learned how to drive in mud and snow. I went on camping trips and first dates and weekly trips to sales barns. If I could find that truck today, I would probably spend thousands to bring it back to life.
Now I drive a Toyota. I bought my first one in 1974 when I worked for the weekly newspaper in Orangeville. At that time the town offered two choices: Dave Holland's Chev Olds or Doc Gillies' Ford. You made up your mind between one or the other when you turned 16 and you drove that make for the rest of your life. If you drove a Toyota into town, as I did, you would be watched …
But that little red Celica would go anywhere. I put chains on it and drove all over the township during the big snowstorm of 1975 taking pictures for the paper. I drove around snowplows, rescued people from snowbound houses and even pulled a horse out of a ditch. It was like a snowmobile. It had little tow hooks on the front and you could have picked it up by a hook and swept underneath if you wanted.
Something has happened over the years. I bought a Toyota Matrix in 2006 and got it stuck in six inches of wet snow at the mailbox. I made the mistake of putting a chain on one of the tow hooks and tried to pull it out with the tractor. That inflicted $2,000 worth of damage to the front end and Keith Currie had to bring his flatbed tow truck to get it out.
"Never, ever use those hooks," he scolded me. "They are not attached to anything except maybe the CD player. Tow hooks are a leftover from the past – same as your appendix or thumbs on a horse. They were for the day when cars had a frame."
"They don't have a frame now?"
"Noooo. They have a deck. Everything is glued to the deck. This car gets great mileage because they took away the frame and made it lighter."
"Should I get a Jeep?" I asked. We were standing in the Parkway Collision shop and Keith pointed to a Jeep on the hoist behind us. "That guy went into the ditch the same day as you."
"So, what would you drive?"
"Me? I drive a tow truck!"
That may be the only answer in an age when cars are delicate and the roads aren't plowed after dark. Either that or cancel your plans and curl up in front of the fire with a good book.
Article appeared in Inn the Hills Magazine November 20, 2018. Click to read more of Dan's stories in Inn the Hills Magazine.